New Music Friday con Paulina Laponte (Marzo 3 2023)
Escrito por: Paulina Laponte
Publicado: 03 Mar 2023 12:00 PM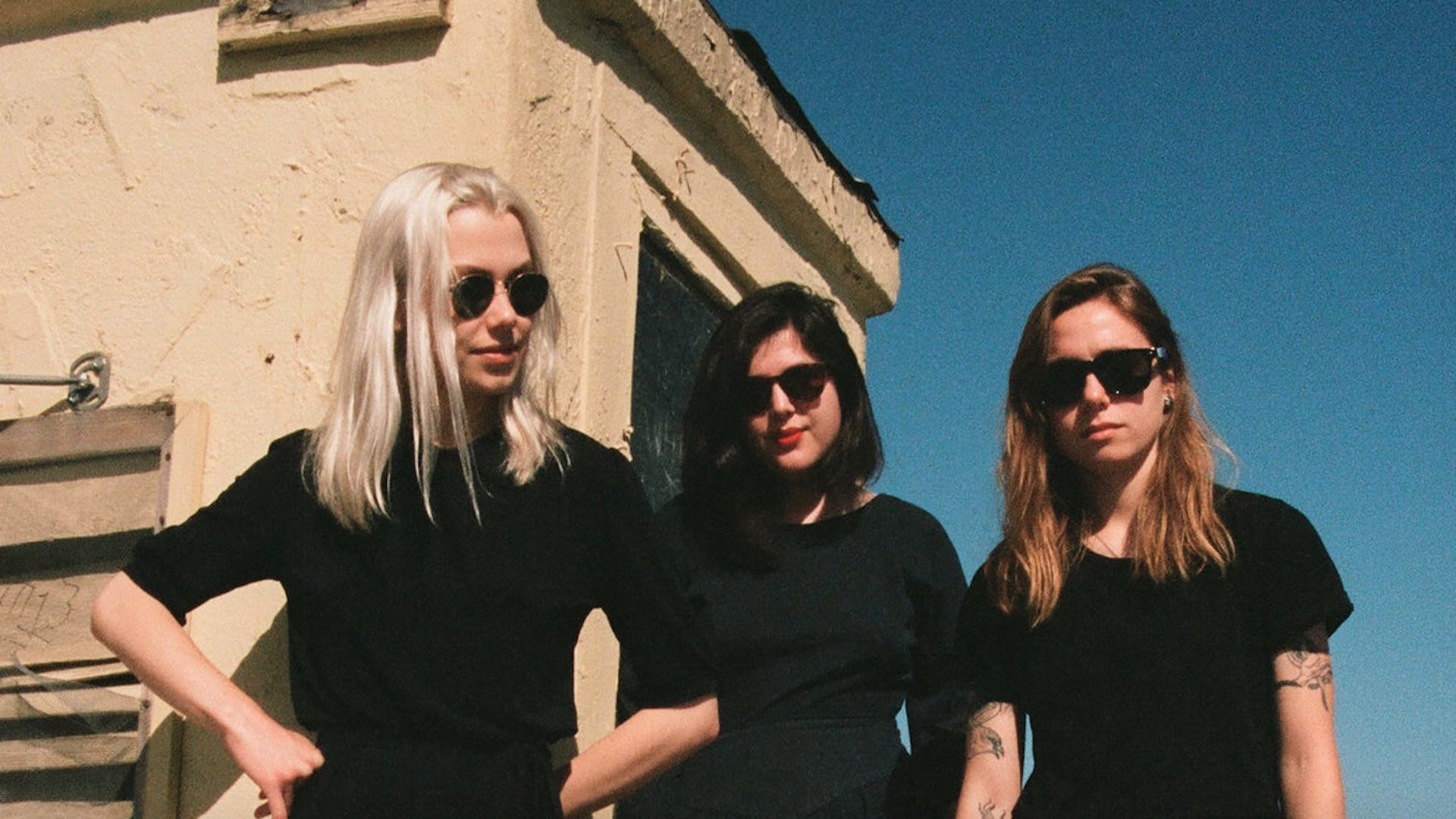 Viernes de estrenos con música nueva Boygenius, Kali Uchis, Mimi Web, Galantis & más!
Boygenius, el súper grupo compuesto por Phoebe Bridgers, Lucy Dacus y Julien Baker acaba de publicar un nuevo adelanto de su disco debut The Record, que será lanzado el 31 de marzo a través de Interscope. El sencillo se llama "Not Strong Enough" y le sigue a los anteriormente publicados "$20", "Emily I'm Sorry" y "True Blue".
boygenius - Not Strong Enough (official music video) listen to "Not Strong Enough": https://boygenius.lnk.to/notstrongenough pre-order "the record" out march 31: https://boygenius.lnk.to/therecord follow boygenius: website: https://www.xboygeniusx.com merch store: https://www.boygenius.store instagram: https://boygenius.lnk.to/instagram twitter: https://boygenius.lnk.to/twitter facebook: https://boygenius.lnk.to/facebook spotify: https://boygenius.lnk.to/spotify join boygenius' mailing list: https://boygenius.lnk.to/emaillist subscribe to boygenius' channel: https://boygenius.lnk.to/subscribe Credits: Shot by: Julien Baker, Phoebe Bridgers and Lucy Dacus Edited by: Jackson Bridgers Color by Clark: Griffiths/ Company 3 "Not Strong Enough" lyrics: Black hole opened in the kitchen.
La nueva estrella del pop britanico Mimi Webb, finalmente lanzó su álbum debut, Amelia, después de 3 años de cosechar éxitos con giras, presentaciones y grandes hits radiales. El nombre del disco obedece al nombre de pila de la artista en ascenso cuya participación acaba de ser confirmada para la edición 2023 de los icónicos festivales británicos Reading and Leeds.
Mimi Webb - Freezing (Official Music Video) "Amelia" available at: https://MimiWebb.lnk.to/Amelia Follow Mimi Webb: https://www.instagram.com/mimiiiwebb/ https://twitter.com/mimiwebb https://www.tiktok.com/@mimiwebb_?lang=en (C) 2023 Epic Records, a division of Sony Music Entertainment #MimiWebb #Freezing #Amelia http://vevo.ly/3WuXIq
La artista colombo americana Kali Uchis quién hace parte del lineup del festival Estéreopicnic de este año estrenó su álbum Red Moon In Venus, el cual describe como "una expresión atemporal y ardiente de deseo, angustia, fe y honestidad, que refleja la feminidad divina de la luna y Venus". El disco incluye el sencillo principal " I Wish You Roses ", que, según Isabelia Herrera de Pitchfork , evoca "a la leyenda del soul Minnie Riperton, pero también la melancolía grave de la titán del jazz Sarah Vaughan".
null
Nicki Minaj regresa después de estallar los listados de singles el verano pasado con su éxito Super Freaky Girl. Su nuevo sencillo se llama Red Ruby Da Sleeze y llegó bajo la producción de Go Grizzly y Cheeze Beats. ya veremos si cuenta con el mismo éxito del anterior sencillo .
Official lyric video for Nicki Minaj "Red Ruby Da Sleeze", available everywhere now: https://NickiMinaj.lnk.to/RRDS ►Connect with Nicki 🎀🦄 https:/www.nickiminajofficial.com https://instagram.com/nickiminaj https://twitter.com/nickiminaj https://facebook.com/nickiminaj https://snapchat.com/add/nickiminaj https://tiktok.com/@nickiminaj ►Shop Official Merch: https://shop.nickiminajofficial.com ►Subscribe on YouTube: http://bit.ly/NickiMinajYTSub Directed and animated: Tillavision Prompt engineer: Matt Penttila MoCap Studio: Cinetica Studio MoCap Director: Jonny Mehraban Dancer's: Valeria Cordero, Ximena Gutierrez Lyrics: Only on them C's if it's breeze red ruby da sleeze Chinese on my sleeve these wanna be chun li's Anyway 你好 Nǐ hǎo Nǐ hǎo Who the fuck told bitches they was me now?
Demi Lovato también regresa después de un relativo silencio tras el lanzamiento de su álbum de rock HOLY FVCK. Ahora la artista ha prestado su voz para el nuevo sencillo de la sexta película de Scream, que se estrenará próximamente. Still Alive la ve luchando por sobrevivir al cuchillo de carnicero de Ghostface.
Stream "Still Alive" Out Now: https://DemiLovato.lnk.to/StillAliveOutNow Connect with Demi: Instagram http://instagram.com/ddlovato TikTok: https://www.tiktok.com/@ddlovato Twitter http://twitter.com/ddlovato Facebook http://facebook.com/demilovato Official site http://demilovato.com Connect with Demi: http://www.demilovato.com/#mailing-list Director: Jensen Noen Producers: Phoenix Vaughn & Tanner Gordon & Veronika Graves Executive Producers: Frank Borin & Ivanna Borin Production Company: UnderWonder Content Co-Producers: Ruth Devereaux & Jessica Harris Director of Photography: Justin Jones Production Designer: Christina Giddens-Garcia Stunt Coordinator: Brandon Belieu 1st AD: Tiffany Waxler #DemiLovato #StillAlive #ScreamVI Music video by Demi Lovato performing Still Alive (From the Original Motion Picture Scream VI).
También tenemos nuevas ofertas un poco más bailables de Hayley Kiyoko con Steve Aioki y Galantis en el sencillo Hungry Heart, y un equipo de alto calibre conformado por Sigala, Mae Muller, Caity Baser y Stefflon Don y el nuevo sencillo Feels This Good.

Además, el LP de la banda sonora del nuevo programa de Amazon Daisy Jones & The Six, que cuenta la historia de una banda ficticia de los años 70 fuertemente influenciada por el lanzamiento de Rumors de Fleetwood Mac, fue lanzado esta semana. La música proviene del genio del pop Ali Tamposi que ha trabajado con influyentes figuras del pop como Kelly Clarkson, Camila Cabello.

Y finalmente, a medida que se acerca el lanzamiento del nuevo disco de Miley Cyrus Endless Summer Vacation la próxima semana, la artista lanzó la versión demo original de 'Flowers' como un regalo especial para los fanáticos después de que su sencillo completara su sexta semana consecutiva reinando en la cima del Hot 100 y el Official Charts del Reino Unido.
Official Audio for "Flowers (Demo)" by Miley Cyrus Listen to & Download "Flowers (Demo)" out now: https://mileycyrus.lnk.to/FlowersDemo Pre-Order "Endless Summer Vacation" available March 10th: https://mileycyrus.lnk.to/EndlessSummerVacation Connect with Miley Site: http://mileycyrus.com Twitter: https://mileyl.ink/twitter Instagram: https://mileyl.ink/instagram TikTok: https://mileyl.ink/tiktok Facebook: https://mileyl.ink/facebook Discord: https://discord.com/invite/mileycyrus #MileyCyrus #Flowers #EndlessSummerVacation
Para escuchar estos y más estrenos, siga nuestra playlist de #NewMusicFriday a continuación: